Defining a threatened species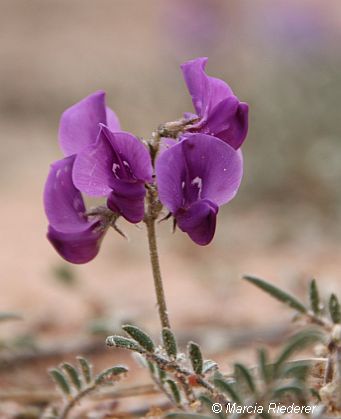 The term 'threatened species' generally refers to those species or taxa which have been assessed against specific criteria to determine their status in terms of extinction risk. Assessments can be quite detailed and consider factors such as population or sub population size, the level and composition of population reduction, the extent and decline across a species geographic range, the fragmentation of populations and decline in the extent and suitability of habitat.
Subject to findings of the assessment process a species may be assigned a particular level of threat; Extinct (EX), Critically Endangered (CR), Endangered (EN), Vulnerable (VU), Near Threatened (NT), and Data Deficient (DD).
The term 'threatened species' is applied to those species which are considered either; Vulnerable, Endangered, Critically Endangered, or Extinct in the Wild.
In the case of the 'Victorian rare or threatened plants advisory list' species are considered threatened if they are; Endangered, Vulnerable, Rare or Poorly Known in Victoria.
Types of threatened species listings
In Victoria and other states across Australia there are non-legislative threatened species advisory lists as well as legislated lists under various Acts pertaining to State and Commonwealth legislation.

Victorian Threatened Species Advisory Lists
These are non-legislative lists, developed and managed by the Department of Environment, Land, Water and Planning, and are intended to increase community awareness of threatened species and provide a resource for individuals, groups and organisations involved with biodiversity conservation. Species are assessed based on criteria used by the IUCN.
IUCN Red List of Threatened Species
The IUCN Red List provides information on plants and animals that are facing a higher risk of global extinction. The lists provides taxonomic, conservation status and distribution information on plants and animals that have been globally evaluated using the IUCN Red List of Threatened Species Criteria. 2001 IUCN Red List Categories and Criteria version 3.1. Note these documents are periodically revised therefore it is recommended to check the IUCN web site for any revisions.


Legislated Lists of Threatened Species
There are two primary lists of threatened species which are enshrined in legislation that relate to Victoria;
In both cases for a species to be included in the respective legislation it must have been nominated, assessed by the relevant Scientific Committee and approved by the relevant Minister.
Threatened species Action Statements are required under the Flora and Fauna Guarantee Act 1988. Under the Act the Department of Environment, Land, Water and Planning must prepare an Action Statement for each listed species. Further information on the process of developing Action Statements and to search for completed statements visit the DELWP Action Statement page.
Overview of threatened species in Victoria
The current Victorian Advisory lists contain 2443 species, comprising 293 species of vertebrate fauna (62 mammals, 130 birds, 47 reptiles, 18 amphibians and 22 fishes). There are; 1826 vascular plants, 137 Bryophytes, and 9 species of fungi. Also a total of 178 species of invertebrates. These include threatened species as well as species which are considered; Extinct, Regionally Extinct, Near Threatened and Data Deficient.
Species are considered 'threatened' if they are assigned the status of; Vulnerable, Endangered, Critically Endangered, or Extinct in the wild. In the case of flora the conservation status 'Rare' is also used.

Table of Victorian threatened fauna on advisory list
| | Mammals | Birds | Reptiles | Amphibians | Fish |
| --- | --- | --- | --- | --- | --- |
| Extinct in wild | 1 | 0 | 0 | 0 | 0 |
| Critically endangered | 5 | 12 | 14 | 8 | 11 |
| Endangered | 8 | 29 | 11 | 4 | 6 |
| Vulnerable | 10 | 48 | 10 | 3 | 3 |
| Total | 24 | 89 | 35 | 15 | 20 |

Table of Victorian flora on Victorian advisory list
| | Vascular plants | Bryophytes | Fungi & Lichens |
| --- | --- | --- | --- |
| Endangered | 270 | 10 | 3 |
| Vulnerable | 475 | 18 | 2 |
| Rare | 804 | 30 | 4 |
| Poorly known | 228 | 77 | 0 |
| Total | 1777 | 135 | 9 |

Table of Victorian flora and fauna listed under the FFG Act 1988 (as at February 2014)

No. of FFG Act
Species listed

Mammals

40

Birds

76

Reptiles

28

Amphibians

11

Fishes

25

Crustaceans

19

Echinoderms

7

Insects

35

Cnidarians

1

Molluscs

10

Vascular Plants

337

Non Vascular Plants

19

Fungi & Lichens

3

Total

611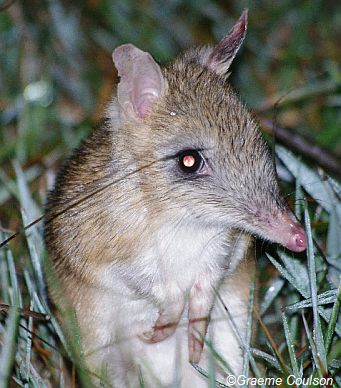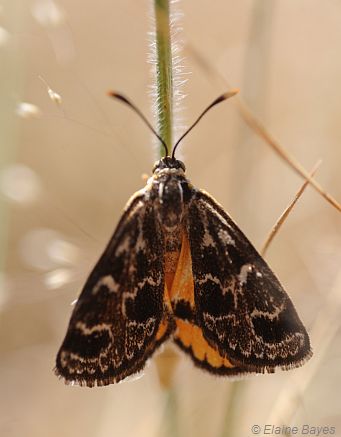 In addition to the above species listings there are 39 Victorian flora & fauna communities listed under the Victorian FFG Act
Extinctions in Victoria
| Extinct in Victoria | Regionally Extinct | Extinct in wild |
| --- | --- | --- |
| Brush-tailed Bettong (eastern sub, sp. | Chirruping Wedgebill | Eastern Barred Bandicoot |
| Southern Bettong (mainland subspecies) | Night Parrot | |
| Eastern Hare Wallaby | Small-scaled Snake | |
| Lesser Stick-nest Rat | Bolam's Mouse | |
| Long-eared Mouse | Bridled Nailtail Wallaby | |
| Pig-footed Bandicoot | Desert Mouse | |
| Short-nosed bandicoot (inland form) | Eastern Quoll | |
| Western Barred Bandicoot (eastern subspecies) | Greater Stick-nest Rat | |
| White-footed Rabbit Rat | Red-tailed Phascogale | |
| 49 species of Vascular Plants | Rufous Bettong | |
| 2 species of Bryophytes | Rufous-bellied Pademelon | |
| | Western Quoll | |
| | Agassiz's Chanda Perch | |
| | Freshwater Herring | |
| | Southern Purple-spotted Gudgeon | |